WASHINGTON (June 28, 2017)—Six prominent former US government officials sent a letter today to President Donald Trump urging him to begin discussions with North Korea over its nascent nuclear weapons program. Given the absence of a viable military option, they wrote, it is critical to establish communication "to avoid a nuclear catastrophe."
The signatories on the letter are: Robert Gallucci, former diplomat and chief U.S. negotiator with North Korea in the mid-1990s; Siegfried Hecker, former director of the Los Alamos National Laboratory; Richard Lugar, former US senator; William Perry, former US secretary of defense; Bill Richardson, former governor and US ambassador to the United Nations; and George Shultz, former US secretary of state. Together, these six experts have decades of experience in US-North Korean relations. (See below for more complete bios and contact information.)
"Tightening sanctions can be useful in increasing pressure on North Korea, but sanctions alone will not solve the problem," their letter cautioned. "Pyongyang has shown it can make progress on missile and nuclear technology despite its isolation. Without a diplomatic effort to stop its progress, there is little doubt that it will develop a long-range missile capable of carrying a nuclear warhead to the United States."
Gallucci et al. released the letter the same day South Korea's new president, Moon Jai-in, arrived in Washington for meetings with Congress and President Trump. Moon favors dialog with his northern neighbor. "To resolve the issue," Moon said during a recent interview with The Washington Post. "we have to add dialogue to the current menu of sanctions and pressure."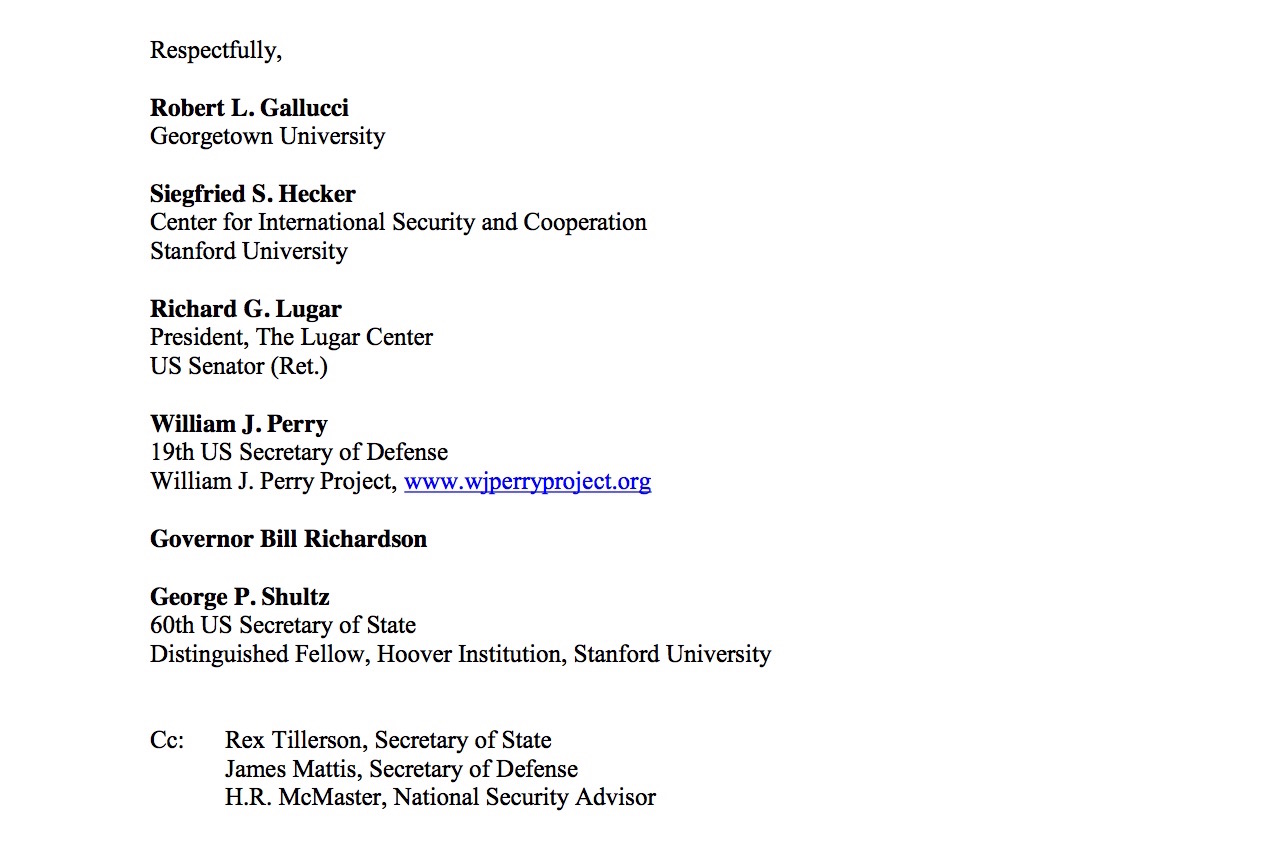 Signatories
Robert Gallucci was chief US negotiator during the North Korean nuclear crisis of 1994. The Agreed Framework that resulted from those negotiations stopped North Korea's production of plutonium for nuclear weapons. From 1998 to 2001, he served as special envoy for the State Department, addressing the threats posed by the proliferation of ballistic missiles and weapons of mass destruction.
Siegfried Hecker is an internationally recognized expert in plutonium science, global threat reduction, and nuclear security. He served as the fifth director of the Los Alamos National Laboratory from 1986 to 1997. An expert on North Korea's nuclear program, he has visited North Korea seven times since 2004. He is one of the few Western scientists to have seen a sample of North Korea's plutonium and visited its centrifuge facility, which can produce highly enriched, weapon-grade uranium.
Richard Lugar was a US senator from 1977 until 2013, serving twice as chair of the Senate Foreign Relations Committee. During his time in the Senate he was a leader on nuclear weapons and arms control issues. He continues to work on security issues, including North Korea, through the Lugar Center, which he started after leaving the Senate.
William Perry served as secretary of defense under President Bill Clinton from 1994 to 1997 and deputy secretary of defense from 1993 to 1994. He was closely involved with negotiating and implementing the 1994 Agreed Framework with North Korea. In 1999, he visited North Korea as President Clinton's special envoy, and served as a special advisor to the president and the secretary of state on North Korean affairs. He continues to follow and write about North Korea and other nuclear issues.
Bill Richardson has visited North Korea on many occasions since the early 1990s. During those trips, he met with North Korean officials to discuss its military programs and helped negotiate the release of US citizens detained by North Korea. A former US Congressman (1982 to1996), Ambassador to the United Nations (1997 to1998), and Governor of New Mexico (2003 to 2011), he now works on these issues in part through the Richardson Center for Global Engagement.
George Shultz served as secretary of state under President Ronald Reagan from 1982 to 1989. In that position, he played a key role in implementing a foreign policy that led to the end of the Cold War and the development of strong relationships between the United States and Asia-Pacific nations. He continues to work on security issues and in 2007 created the Nuclear Security Project with William Perry, former Secretary of State Henry Kissinger and former Senator Sam Nunn.